Welfare Measures
The Company creates an excellent working atmosphere, considers people as the core, establishes a comfortable workplace and strives towards the direction of health and care. We are happy to share the profit results with our employees and work together to create a long-term win-win situation; in addition, we have planned good welfare measures to enable our employees to achieve a balance and enjoyment between life and work.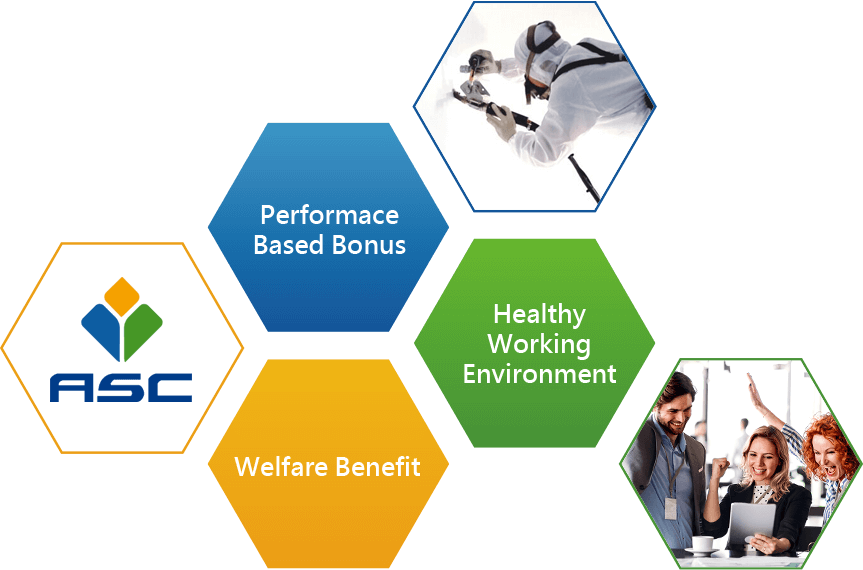 Comprehensive Salary and Compensation System:
1. Fixed salary for 12 months.
2. Year-end, Dragon Boat and Mid-Autumn Festival bonuses will be paid based on the company's operation and individual performance.
3. We have established an employee compensation system to thank employees for their contributions to the Company, which is directly related to the Company's operational performance, team performance and individual performance.
4. We encourage our employees to make innovations and breakthroughs in their works, and have set up a mechanism to make proposals and provide rewards to them; as shown in the table below, we promote the optimization of the environment, and at the same time, we involve our employees in improving it to achieve better results by providing rewards.
5. The company has established detailed salary structures and ranges for each position, ensuring that there is no gender-based wage gap in job compensation.
Year
Year-end bonus
(Mid-Autumn bonus/
Dragon Boat Festival bonus/
Year-end bonus)
Mid-year bonus
Total bonus issued
2020
33,959,928
36,682,235
70,644,183
2021
37,753,890
42,393,833
70,644,183
2022
42,746,501
79,511,865
122,258,366
2023
49,175,888
160,914,009
210,089,897
Unit: NTD
Leave and Insurance System
1. Take out labor insurance, national health insurance and make regular monthly pension contributions in accordance with the law.
2. Additional group insurance coverage after joining the Company according to job qualifications.
3. The Company has a comprehensive leave and attendance system. In addition to all kinds of leave entitlements under the law, the Company also provides other leaves that are superior to those provided by the Labor Standards Act.
4. The company implements a system of employee leave without pay for child care and assists employees who meet the qualifications for child care leave to apply. We hope that employees can take care of their families, take care of their family and career, and have a happy life plan without any worries.
5. The status of childcare leavers, suspensions and reinstatements in recent years:
Year
2022
2023
Gender/Total
Male
Female
Male
Female
Employees who actually applied for childcare leave
2
3
1
8
Reinstatement of actual child care leave
1
3
1
2
Reinstatement after actual childcare leave the following year
1
-
-
-
Diversified Welfare Measures
1. The year-end dinner party, with exciting performances and prizes for everyone.
2. Long-standing employees with outstanding performance will be rewarded with a gold coin.
3. The public area is rich in books, newspapers and magazines to enrich the mind and knowledge.
4. We provide uniforms of good quality and comfortable material, and consider safety and provide safety shoes that are durable and comfortable to protect the safety of employees.
5. We pay attention to the working environment and restroom environment, consider mobility, safety, comfort, etc., and plan a detailed and complete environment, such as providing milk, salt to re-charge antiseptic, hand sanitizer, tissues, public umbrellas, etc.
6. The factory has free motorcycle parking shed, car parking area, and guest parking area.
7. The factory has a common staff cafeteria, which provides delicious and nutritious lunches and free evening snacks for employees to eat together and enhance their fellowship.
8. We pay attention to the health of our employees and provide free annual health check-ups for our employees and welcome their families to participate.
9. We have professional doctors and nurses visit our factory regularly to provide health consultation and advice.
10. We provide a comfortable pantry with free coffee, refrigerator and microwave oven.
11. We provide a feedback channel where employees can express their opinions and suggestions through a suggestion box or email, and set up internal and external reporting and reward channels to encourage employees to think positively and uphold a sense of justice.
Establishment of Employees' Welfare Committee
1. In addition to complying with the laws, we allocate additional monthly funds to the Welfare Committee for planning welfare programs
2. Mid-Autumn, Labour and Dragon Boat Festival gift vouchers/gift money/gifts
3. Annual Souvenirs (It can be provided in different forms of employee benefits)
4. Employee travel subsidy (It can be provided in different forms of employee benefits)
5. Birthday gift money
6. Education scholarships for employees and their children
7. Subsidies for wedding and funeral arrangements, home purchases, childbirth and emergency assistance
8. Signing special contracts with stores, including: hotels, medical institutions, other retail outlets, etc., with many discounts.
Employees' Activities
1 / 0
We have our own running club, which organizes its own running events and is open to employees and their families to enjoy sports together.
1 / 0
From time to time, the Welfare Committee organizes domestic and overseas employee travel activities to enrich employees' time away from work and enhance the friendship between employees and their families.
1 / 0
The Company organizes various activities, including "Book Sharing" to encourage employees to develop a reading habit and promote growth through activities, and donates some books to the local library to achieve multiple benefits.
1 / 0
In addition, at the end of every year, we organize dinner party at various restaurants, such as Windsor Hotel, South Garden Hotels and Resorts, Fleur de Chine Hotel, etc., to thank our employees for their hard work during the year, and to arrange excellen